SHIJIAZHUANG-Hebei, a major steel-producing province in China, saw its steel production capacity down from 320 million metric tons at its peak to below 200 million tons over the past decade, local authorities said.
The province reported its steel production dropped 8.47 percent year-on-year in the first six months.
The number of iron and steel enterprises in the northern Chinese province has been slashed from 123 about 10 years ago to the current figure of 39, and 15 steel companies have moved away from urban areas, according to Hebei government statistics.
As China deepens supply-side structural reform, Hebei, which neighbors Beijing, has made headway in cutting overcapacity and pollution, and in the pursuit of green and balanced development.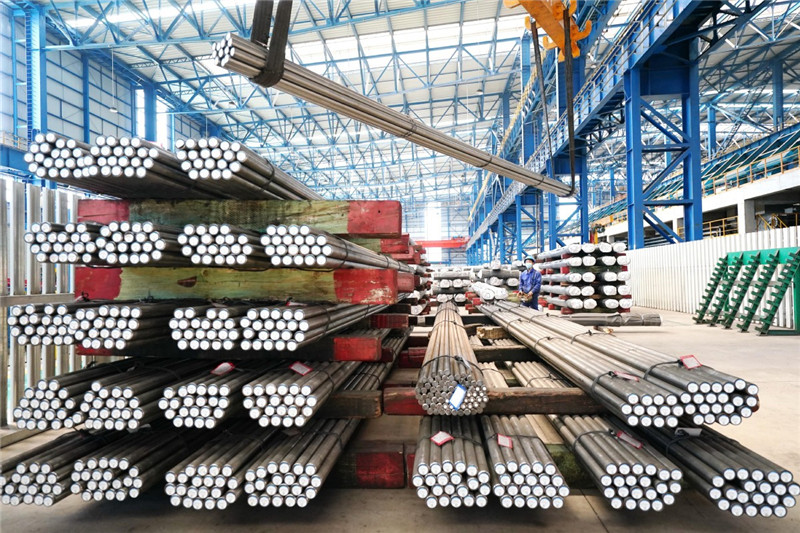 Cutting overcapacity
Hebei once accounted for roughly a quarter of China's total steel production, and was home to seven of the country's 10 most polluted cities. Its reliance on polluting sectors like steel and coal-and the resulting excessive emissions-seriously hampered the province's economic development.
Having been engaged in the iron and steel field for nearly 30 years, Yao Zhankun, 54, has witnessed the change in environment of Hebei's steel hub Tangshan.
Ten years ago, the steel mill Yao worked for was just next door to the local ecology and environment bureau. "The two stone lions at the gate of the bureau were often covered with dust, and the cars parked in its yard had to be cleaned every day," he recalled.
To reduce overcapacity amid China's ongoing industrial upgrade, Yao's factory was ordered to cease production in late 2018. "I was very sad to see that the steelworks were dismantled. However, if the overcapacity issue were not solved, there would be no way to upgrade the industry. We must look at the big picture," Yao said.
With overcapacity reduced, steel-makers that remain operational have upgraded their technology and equipment to save energy and cut pollution.
Hebei Iron and Steel Group Co Ltd (HBIS), one of the world's largest steel-makers, has adopted more than 130 advanced technologies at its new plant in Tangshan. Ultralow emissions have been achieved across the whole production chain, said Pang Deqi, head of the energy and environmental protection department at HBIS Group Tangsteel Co.
Grasping opportunities
In 2014, China initiated a strategy of coordinating the development of Beijing, neighboring Tianjin Municipality and Hebei. Sino Innov Semiconductor (PKU) Co Ltd, a high-tech company based in Baoding, Hebei, is the result of industrial collaboration between Beijing and Hebei province.
With technology support from Peking University (PKU), the company was incubated in the Baoding-Zhongguancun innovation center, which has attracted 432 enterprises and institutions since it was established in 2015, said Zhang Shuguang, who is in charge of the center.
Over 100 kilometers south of Beijing, a "city of the future" is emerging with great potential, five years after China announced its plans to establish the Xiong'an New Area in Hebei.
To advance the coordinated development of the Beijing-Tianjin-Hebei region, Xiong'an was designed as a major recipient of functions relocated from Beijing that are nonessential to its role as China's capital.
Progress in moving companies and public services to the new area is accelerating. Centrally administered State-owned enterprises, including China Satellite Network Group and China Huaneng Group, have started the construction of their headquarters. Locations have been chosen for a group of colleges and hospitals from Beijing.
By the end of 2021, the Xiong'an New Area had received an investment of over 350 billion yuan ($50.5 billion), and more than 230 key projects were planned this year.
"The coordinated development of the Beijing-Tianjin-Hebei region, the planning and construction of the Xiong'an New Area and the Beijing Winter Olympics have brought golden opportunities for Hebei's development," Ni Yuefeng, secretary of the Hebei Provincial Committee of the Communist Party of China, said at a recent press briefing.
Over the past decade, Hebei's industrial structure has gradually been optimized. In 2021, the operating revenue of the equipment manufacturing industry climbed to 1.15 trillion yuan, becoming the driving force for the province's industrial growth.
Better environment
Continuous efforts driven by green and balanced development have borne fruit.
In July, several Baer's pochards were observed at Hebei's Baiyangdian Lake, showing that the Baiyangdian wetland has become a breeding ground for these critically endangered ducks.
"Baer's pochards require a high-quality ecological environment. Their arrival is strong proof that the ecological environment of Baiyangdian Lake has improved," said Yang Song, deputy director of the planning and construction bureau of Xiong'an New Area.
From 2013 to 2021, the number of days with good air quality in the province increased from 149 to 269, and heavily polluted days decreased from 73 to nine, said Wang Zhengpu, governor of Hebei.
Wang noted that Hebei would continue to promote high-level protection of its ecological environment and high-quality economic development in a coordinated manner.
---
Post time: Jan-10-2023